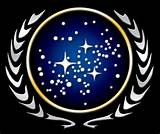 The United Federation of Planets (commonly referred to as the Federation) was an interstellar federal republic, composed of planetary governments that agreed to exist semi-autonomously under a single central government based on the principles of universal liberty, rights, and equality, and to share their knowledge and resources in peaceful cooperation and space exploration.
Unlike its imperial rivals, who derived power from a single species subjugating other races, the Federation's various member worlds joined willingly and were equals in the Federation's democratic society.
After the Second Edition Rules released in 2017, both Vulcan and Bajoran Factions were added to the Federation as Sub-Factions.
Retail Releases
Starter Set, 2013
Starter Set, 2017
USS Enterprise-D
USS Sutherland
Wave 0 - August 2013
Wave 1 - October 2013
Wave 2 - December 2013
Wave 3 - February 2013
Wave 4 - April 2014
Wave 6 - July 2014
Wave 7 - September 2014
Wave 8 - October 2014
Wave 9.5 - November 2014
Wave 11 - January 2015
Wave 14 - May 2015
Wave 15 - June 2015
Wave 17 - August 2015
Wave 18 - September 2015
Wave 19 - October 2015
Wave 20 - November 2015
Wave 21 - December 2015
Robinson - Jem'Hadar Attack Ship Class
Wave 22 - January 2016
Wave 23 - March 2016
Wave 24 - May 2016
Wave 25 - July 2016
Wave 26 - September 2016
Wave 27 - November 2016
Wave 28 - January 2017
Wave 29 - March 2017
Wave 30 - May 2017
Wave 31 - July 2017
Card Pack Wave 1 - September 2017
Card Pack Wave 4 - May 2018
Federation Attack Fighters
Previously Announced/Cancelled Ships
Unnamed - Aerie Class
Einstein - Type 7 Shuttlecraft
USS Yosemite - Oberth Class
Organized Play Ships
Dominion War Organized Play Series
The Collective Blind Boosters
The Collective OP Series
Peak Performance
Q Continuum OP Series
Year of Hell
Balance of Terror
2015-16 Reinforcement Blind Booster
The Doomsday Machine
Classic Movie OP Series
Tin Man
Yesterday's Enterprise
USS Enterprise-D - Galaxy Class
In A Mirror, Darkly
Drive
Generic Ships
Category Federation ? Upgrades not found
Sub-Factions
Notes